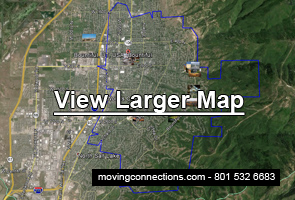 When you consider selecting a moving service, you should select one that is federally licensed, bonded, and insured. It should also have years of experience in moving Utah families. It should also hire only experienced movers.
Moving Connections has all of the above qualifications, plus many more. We have been serving the shipping and local moving needs of Utah families and businesses for more than three decades. That's why we're a top choice for your Bountiful local residential or corporate move. We have the moving trucks, we have the moving crews, and we have the moving equipment to make your Bountiful move quick, efficient, and smooth.
Moving Connections also offers Bountiful "labor only moving help" moves, in which you pack most of your items yourself (leave the heavy and fragile items to us) and you save money by saving our crew the time of packing those smaller items. It's a win-win situation if you're good at packing things.
So give Moving Connections a call, or drop us an email, and we will happily answer any questions about your Bountiful local move, and we'll be happy to give you a move quote, too. In fact if you are on mobile phone click here to dial us directly.