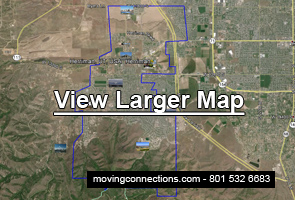 If you're looking for a top tier professional moving company serving Herriman, then consider Moving Connections.
Moving Connections is dedicated to bringing the most professional local moving service to the Wasatch Front. With the best moving teams in the state, with a transparent and honest pricing plan, and with a bonded and insured service, Moving Connections has emerged as one of the best moving companies in Utah. And our rates are fair and honest.
Since we are always striving to serve our customers, we have varying plans to fit different budgets for our residential moves. Our most popular service, however, is our Full Service Residential Move. Though this service costs more, it does give peace of mind to those who want everything to be done by bonded and insured professional movers.
Our Labor Only Residential Move allows customers to do much of the work themselves. Our moving team still wraps and loads the truck, especially the large, heavy, and fragile items, but customers can pack many of the household items themselves. This saves you a lot of money since we charge for driving time, labor time, plus boxes and tape.
We are also serious business movers. Whether you're moving an office or a large corporation, Moving Connections has done it before and will coordinate with you to keep you up and running as much as possible even while you're moving.
So give us a call for a quick quote and to discuss options for your move, or click on one of the tabs below to take you to the service you want to know more about.