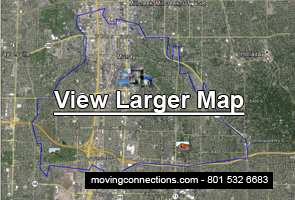 Local Movers in Murray, Utah
If you're looking for a Murray moving service, then consider the following:
Moving Connections has been providing moving and shipping services to Northern Utah residents for more than thirty years.
Moving Connections hires only experienced professional moving crew members.
Moving Connections is not only federally licensed, but we are also bonded and insured in accordance with federal regulations.
That might make us sound like some giant, impersonal corporation with its headquarters in some far-off state. But nothing could be further from the truth.
In fact, Moving Connections – although it provides big service – is in fact a modestly sized company that is attentive to customers, whether they have small or large moving needs. And we don't throw your goods into a fifty three foot trailer along with a half dozen other customers' goods, then wait two weeks to ship it, then charge you thousands of dollars like the huge companies do. We load our twenty-six foot trucks with your goods and your goods only, and then go immediately to the destination of your choice.
But don't think that just because we're responsive to the average Joe or Jill that we're not professionals. We are big time professionals. Just look at our qualifications above. And we've got a pretty cool name – Moving Connections. And speaking of cool, we offer storage facilities, both climate controlled and conventional, at competitive rates for your needs.
That means we're a full service moving company who is happy to move your gun safes or grand pianos or exercise equipment or whatever. But we're also small enough to be responsive to local needs.
So give Moving Connections a call to find out about our simple and transparent pricing policies and we'll give you a quick moving quote. Or email us if you prefer and we'll be happy to answer any of your questions about your Murray move. In fact if you are on mobile phone click here to dial us directly.