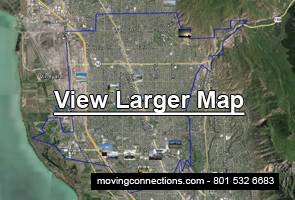 If you're looking for a local, professional moving service that can smooth out the wrinkles and bumps of moving a family or business, then consider Moving Connections.
At Moving Connections, we are in the business of moving people, not objects. We understand that being uprooted and relocating to a new neighborhood or city can be traumatic. That's why we strive to make your Orem move a seamless transition to your new home.
Moving Connections is a local moving company that is affordable and yet professional.
Moving Connections is federally licensed, bonded, and insured.
Moving Connections hires only experienced moving crews.
So give us a call to find out more details or to get a quick moving quote. In fact if you are on mobile phone click here to dial us directly. Or, if you wish, you can email us and we will get back to you as quickly as possible.