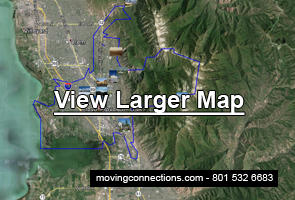 Local Movers in Provo, Utah
If you're looking for a professional moving service that has its roots in Northern Utah; if you want the security and efficiency of a professional moving crew that has been drug screened and background checked; if you want the peace of mind knowing that the local moving company you hired is federally licensed, bonded, and insured, then send an email to Moving Connections or give us a call.
Moving Connections is your Provo moving service that not only fulfills all of the requirements above, but also selects its employees only from experienced professional movers.
In addition, Moving Connections offers various services and packages for reasonable rates. We not only offer full service residential moves, but we also offer a potentially cost-saving "labor only moving help" move. Of course, we offer a full range of business moves, from a single office move to a nearby location (even in the same building) to a complete corporate transition to a new city.
Moving Connections has a very competitive hourly rate with a straightforward transparent pricing policy: you pay an hourly rate for labor time, which includes drive time to your location, plus drive time back to our offices minus ½ hour, plus the cost for any boxes or tape we use. You do not pay for stretch wrap, our professional quality quilted blankets or moving pads, or dollies, piano boards, etc. In addition, there are no fees: no junk fees, no fuel surcharges, and certainly no taxes. So you just pay for labor, plus boxes and tape. Simple and straightforward.
It's always a good policy to book your Provo move early, because time slots for local moves fill up quickly, especially for weekends and times near beginnings or ends of semesters. So call us now, or you can send us an email and a Moving Connections representative will give you a quick, free, moving quote or answer any of your questions about your Provo relocation. In fact if you are on mobile phone click here to dial us directly.