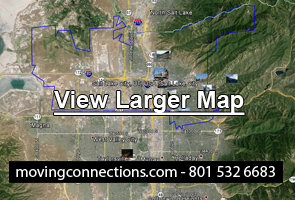 Moving Connections is your local professional moving company serving the Wasatch Front. Although the majority of our business focuses on residential moves, we also have a lot of experience in business moves, including everything from office moves within the same building to intercity major corporate relocations. Moving Connections also offers budget-minded customer pack moves for families and individuals looking to stretch their dollars.
The reason that Moving Connections can offer such a broad range of services is that we hire only experienced professional movers. And Moving Connections is federally licensed, bonded, and insured. So we bring a level of service that is unexcelled along the Wasatch Front.
In addition, Moving Connections carries a broad range of moving supplies, from hundreds of different sized boxes and special purpose boxes, to packaging tape, stretch wrap, bubble wrap, loose fill, cargo straps, and dozens of other products for those with a "do-it-yourself" frame of mind.
So give Moving Connections a call and find out why we have such a high customer satisfaction rating. In fact if you are on mobile phone click here to dial us directly. Or, if you wish, you can email us and we will get back to you as quickly as possible.